More productive. More accurate. More visual. Get Visual Logistics.
Today, a new era of visual technology is generating excitement in the software market for warehouse management systems (WMS).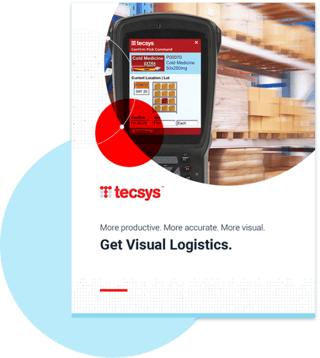 Tecsys spent years developing a breakthrough technology called Visual Logistics® which provides a completely new approach to how operators perform warehousing work.
For the first time, visual images and instructions can be presented to warehouse operators via radio frequency handheld units. This information can be associated to any functional work task or warehouse entity to help operators perform their work as accurately and productively as possible.
In this white paper, learn why Visual Logistics is critically important to the distribution industry through an exploration of the following questions:
What is Visual Logistics?
Why does Visual Logistics improve accuracy and productivity?
How does visual information help associates on the floor?
How does this technology compare with other order picking technologies such as pick to light and voice-directed picking? What are the pros and cons of each option?
What types of distribution center operations fit best with Visual Logistics?
What are the financial and qualitative benefits of Visual Logistics?